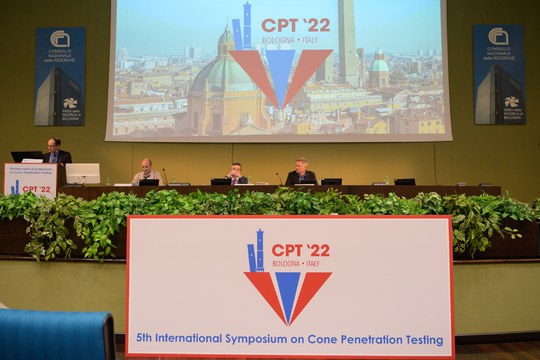 5th International Symposium on Cone Penetration Testing – CPT'22
Published: 21 June 2022 | Incontri e iniziative
From 8 to 10 June 2022, the 5th International Symposium on Cone Penetration Testing – CPT'22 was held in Bologna, at the Congress Centre of the National Research Council (CNR), organized by the geotechnical research group of DICAM together with the Italian Geotechnical Association (AGI), under the auspices of Technical Committee TC102 – In-Situ Testing – of the International Society for Soil Mechanics and Geotechnical Engineering (ISSMGE).
The fully international event has gathered in Bologna, in presence and for the first time in Italy, more than 300 delegates coming from 40 countries all over the world. All major experts and companies working in the broad area of in situ geotechnical tests have met to discuss the most innovative developments, both technological and interpretative, of the cone penetration test (CPT), with significant repercussions on the design and the construction of civil and infrastructural works.
Prestigious invited lectures, short oral presentations and extensive opportunities for discussion of most challenging topics, together with attractive social events took place during the two and a half days of symposium.
The 1174-pages Symposium Proceedings are available, full open access, on the website: cpt22.org
Album CPT'22