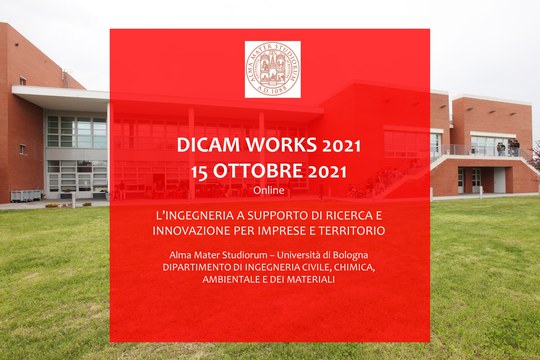 DICAM WORKS 2021
The third edition of the main Third Mission event of DICAM was held on 15 October 2021
Published: 03 December 2021 | Innovazione e ricerca
Engineering to support Research and Innovation for Companies and the Territory.
DICAM WORKS! was an opportunity of mutual benefit and meeting joining universities, the world of enterprises and students, setting the keystones of economic and social development in the near future. DICAM presented its research and training expertise to external organizations and companies by collecting suggestions, expectations and collaboration proposals.
The initiative, organized by professors and researchers of the Department of Civil, Chemical, Environmental and Materials Engineering, was conceived for students as well as professionals, companies and authorities in the civil, chemical and environmental sectors. These were involved in a direct discussion on education and research topics, on the training needs for students and on the types of work paths to be available in the various fields of engineering.
The event was widely participated in terms of attendance and stimuli, almost 500 subscribers, with 150-160 people connected during the morning session and about 20-30 connections in each of the 13 rooms with institutions and companies in the afternoon.
Don't miss this information. Accept cookies from YouTube.
Review your preferences
Video DICAM WORKS 2021