Department of Excellence - MIUR
DICAM Department of Excellence 2018-2022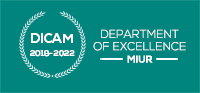 At the beginning of 2018, DICAM was awarded of the "Departments of Excellence" funding, provided for by Finance Law 232 of 2016, aimed at supporting a Development project for the best 180 Departments of State Universities.
The main objective of the development of the Department in the five-year period 2018-2022 is to promote DICAM as a reference point of excellence at an international level, for research and technical activities in the field of engineering. To his aim, international reference benchmarks have been identified.
Embedded innovation drivers:
Analysis of the action and reaction mechanisms between natural, urban, infrastructural and industrial systems;
Innovative use of advanced monitoring and information systems in engineering context, in line with the strategies of Industry 4.0;
Introduction of innovative Big Data and Data Analytics techniques, in line with Industry 4.0;
Use of "open" research approach;
Use of advanced and sustainable communication systems, and social networks to launch "collaborative research" initiatives or virtual laboratories.
Eight action lines:
Recruitment of teaching staff from outside the University
Recruitment of assistant professors (type B fixed-term researchers) in key scientific areas for the development of the Department, with reference to the best-rated disciplines
Recruitment of technical and administrative personnel to support the competitive research and training activities envisaged in the Project
Investment in research infrastructures, i.e. research laboratories, related equipment and ancillary rooms
Strengthening of second and third level teaching activities on strategic topics for the development of the Department and the Project
Prizes in favor of teachers and administrative technical staff
Encouragement to participate to competitive research calls and interdepartmental cooperation and collaborations with international structures of excellence;
Attracting excellent young researchers in favorable research environments (based on the presence of a range of positions, excellent senior researchers, state-of-the-art laboratories and equipment, and consolidated relationships with international companies and institutions)