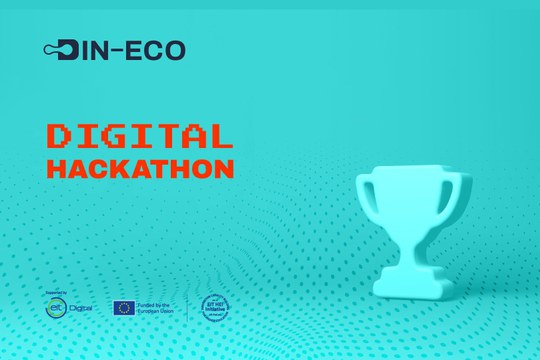 DIN-ECO 2nd Innovation Competition Call: Digital Hackathon
DIN-ECO Project is in the quest for the future pioneers, change makers and inventors who will revolutionise the fields of Digital Technologies, Digital Health and Digital Manufacturing.
Published: 10 November 2023 | Innovazione e ricerca

DIN-ECO is a project of the European Institute of Innovation & Technology (EIT) - Innovation Capacity Building for Higher Education (HEI Initiative), focusing on boosting the digital innovation & transformation capacity of Higher Education Institutions (HEIs) in the Entrepreneurial Ecosystem. The objective of the project is to increase the innovative and entrepreneurial capacity of the participating HEIs and enable their integration into European innovation value chains and ecosystems.
As part of its projects, the DIN-ECO Innovation Competition is a student competition running in Denmark, Greece, Italy, Poland, Serbia, and Turkey to bring together students from different disciplines and identify and support innovative business solutions in the fields of Digital Technologies, Digital Health, and Digital Manufacturing.
☑Participating in the competition, you will have the opportunity to unfold your creativity and entrepreneurial spirit, learn the foundations of entrepreneurship and innovation, connect with students, business professionals and academics across Europe and prepare to start your entrepreneurial journey.
☑Participation in the DIN-ECO hackathon will be a unique opportunity to present your business idea at a pan-European event where you can practise your pitching skills, gain visibility and validation from members of the business community and innovation experts and engage in networking activities.
Who can participate?
Eligible to participate in the DIN-ECO Competition are teams of young individuals who are currently studying at a Higher Education Institution in Denmark, Greece, Italy, Poland, Serbia, and Turkey at undergraduate or postgraduate level, and they have a business idea in the vertical of Digital Technologies, Digital Health or Digital Manufacturing.
Students can apply only as a team.
Key dates:
- Proposals submission deadline: 22 November at midnight.
- Communication of selected teams to enter the DIN-ECO Hackathon:  27 November
- Mentoring and pitching preparation: 28 November to 14 December
- DIN-ECO Hackathon: 19 December
➡ Registrations are now open. Visit the official website and find out more!
🔗 https://din-eco.eu/din-eco-2nd-innovation-competition-call/
To register, please use your institutional e-mail address (studenti.unibo.it /unibo.it)