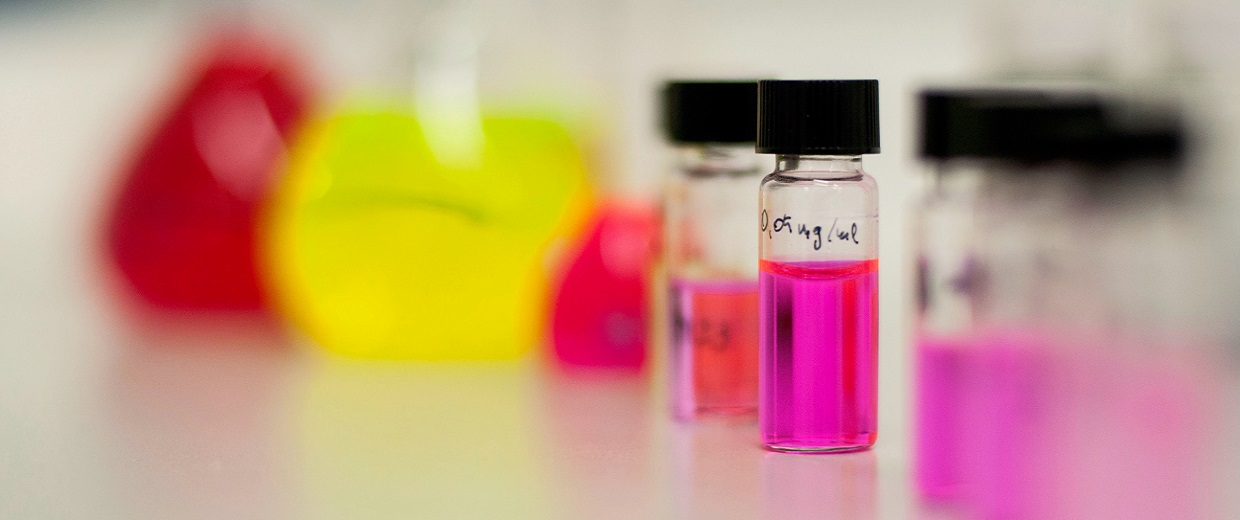 Preparation of new materials or materials with specific properties and to understanding the correlations existing between chemical structure and final properties.
The Macromolecular Chemistry Research group conducts activities in the framework of polymer science. Main works concern:
the synthesis and the dispersion in polymer matrices of inorganic fillers;
the study of advanced polymeric materials for sport equipment, in particular for winter sports;
biomedical engineering aspects (i.e.: tissue engineering, controlled drug release and polymers with antibacterial properties);
the exploitation of biomass and agro-food wastes for the preparation of bifunctional monomers and the synthesis and characterization of novel bio-based polymers and copolymers;
the investigation of polymer crystallization processes.
People
keywords:
nanocellulose, active packaging, essential oils, PLA
keywords:
bio-based biopolymers, thermal and mechanical characterization, nanocomposites, composites with vegetal fibers,
packaging applications, coating applications, end-of-life of plastics, polymers upcycling, agro-waste exploitation
Read more
keywords:
Biotech production of flavors, Biotech production of biochemicals and biofuels, Bioremediation of contaminated soils
and sediments, production of microbial polymers, Biofilm reactors
Read more
keywords:
porosity, rheology, materials durability, material science, thermal characterisation (TGA and DSC)
keywords:
Raman spectroscopy, Bio-based polymers, Additive manufacturing, Eco-compatible packaging, Halogen-free flame retardants
keywords:
biobased monomers, polymers from renewable resources, chemical modification of lignocellulosic compounds, lignin based
thermosetting resins, chemical valorization of food waste for the production of bio-materials
Read more
keywords:
Biodegradation, Polyesters, Polymer synthesis, Crystallization kinetics, Polymer characterization, Biobased polymers,
Nanocomposites, Barrier properties, LCA analysis, Nano systems for the controlled drug delivery, Chemical modifications of commercial polymers, Biopolymers for tissue engineering, Novel disulfide-containing polyesters, Compostability studies, BDS molecular dynamics studies, Atomic Force Microscopy
Read more
keywords:
Polymer-Based Nanocomposites, Metal and Oxide Nanoparticles, In situ synthesis of nanoparticles in polymeric matrices,
Fabrication of scaffolds for tissue regeneration, Syntehsis of biobased additives for polymer properties modification, Fabrication of composite porous materials for different technological applications
Read more
keywords:
Liquid Chromatography, Membranes, Materials for surgical face masks, ventilation systems, 3D printing
keywords:
Polymeric materials, Layered double hydroxides, Biopolymers, Natural fibers, Composites and nanocomposites,
Multifunctional materials, Materials with biocidal properties, Biodegradation, Polymer recycling, Packaging
Read more
keywords:
Polyesters, Novel S-S containing polyesters, Polymers synthesis, Copolymerization, Solid state properties in polymers,
Crystallization kinetics, Biomaterials, Polymer nanostructuring, Nanocomposites
Read more
keywords:
polymers and biopolymers, composites and nanocomposites, synthesis and characterization of polymeric materials, layered
double hydroxides, valorization of wastes and/or by-products, recycle
Read more
keywords:
synthesis, polyesters, polyamides, NMR characterization, renewable sources, barrier properties, biocomposites, waste
exploitation, mechanical and chemical recycling
Read more