LIDR - Laboratory of Hydraulic Engineering
The Laboratory of Hydraulic Engineering LIDR studies hydraulic, hydrological, environmental and fluid mechanics problems, and with particular attention to hydraulic and maritime constructions, the protection of the territory and of the balance of ecosystems, the prevention of pollution.
Gallery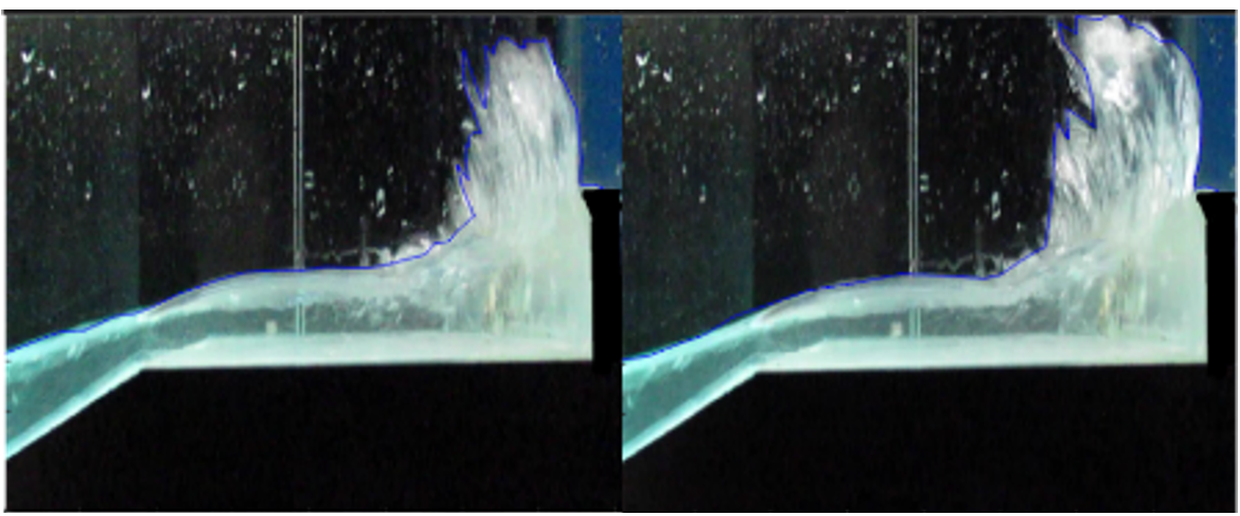 Wave impacts on wall with bull-nose in the wave flume (resp. Zanuttigh)

River flow over vegetated embankments: laboratory tests in the open-flow channel (resp. Toth)

Tests of innovative wave energy converter in the wave flume, with integrated numerical model validation (resp. Archetti)

Instrumental diagnostics of cavitation of hydraulic pumps in collaboration with Reia (resp. Bragalli)

Green roof experimentation on the laboratory building (resp. Maglionico)

Restoration project of the fountain of Neptune in Bologna: test of the nozzles (resp. Bragalli)

Raspberry camera installed in Riccione for coastal videomonitoring. (resp. Archetti)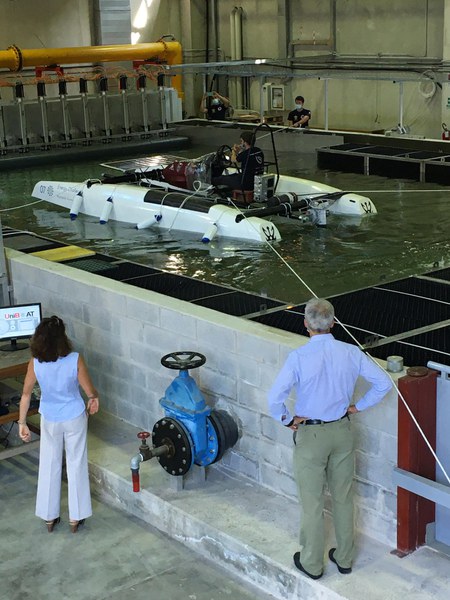 Collaboration with UniboAT for preliminary tests on the boat for universities competition

Field installation of instrumentation for coastal (wave buoy, resp. Archetti) and river (ADCP, resp. Guerrero) monitoring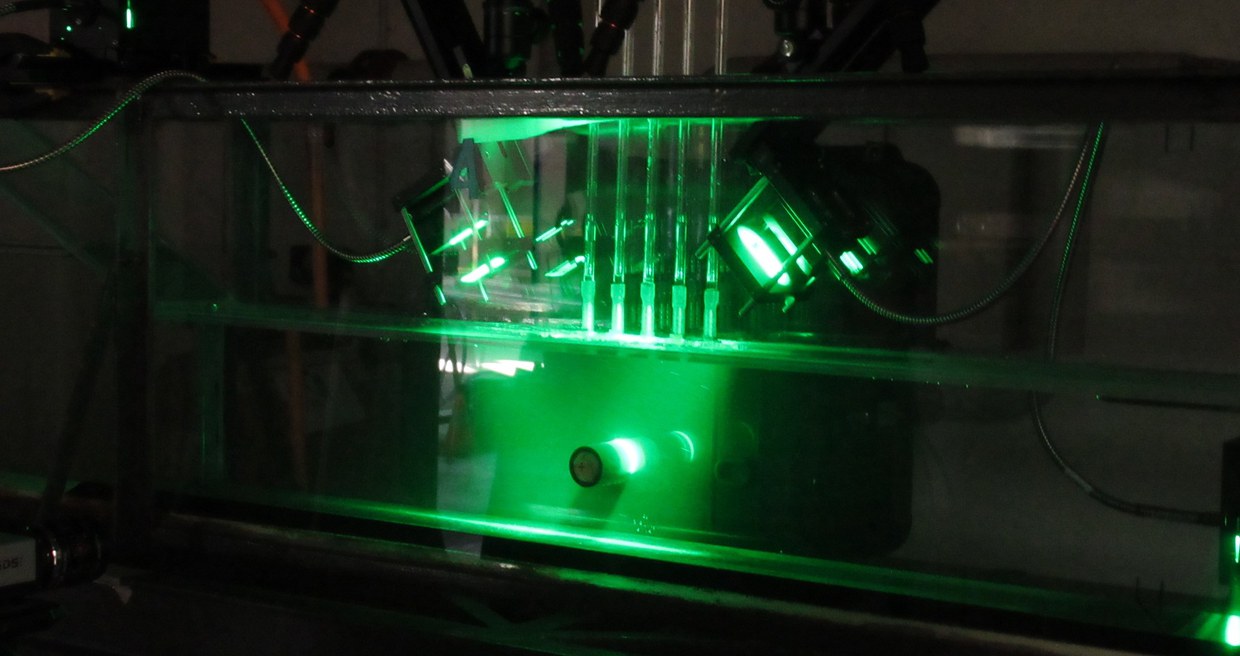 PIV measurements around a horizontal cylinder (courtesy of ILA5150) (resp. Guerrero)
Research themes
LIDR is interested in tests about hydro and morphodynamic processes and in design of innovative works for the water resources uses and renewable energy from currents and waves.
Some research topics are:
monitoring of river, sea and shorelines, with the use of acoustical and optical instruments
hydraulic works for the territory defense by means of scale modeling
dynamics of coastlines and maritime constructions
"nature-based" solutions for soil protection
testing and calibration of instruments for controlling water flows and water levels
fluid flow in porous media
Videos of tests carried out at the LIDR are available on the LIDR youtube channel.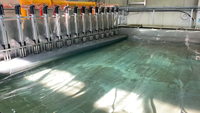 Facilities
Wave-current basin
Realized thanks to regional POR-FESR and ministerial funds for the Excellent Departments, with dimensions of 17 x 10 x 1.4 m3, it is equipped with 16 vertical axis pistons (plunger wavemakers) that generate multidirectional, regular or irregular waves with typical significant height and wave period in the range of 0.12-0.20 m and 0.5-2 s, respectively. In combination with the waves, a current can be generated in the tank, up to a maximum flow rate of 50 l / s allowing to test devices in combination of waves and currents (directed towards the shore and along the coast).
More details on the wave basin are available at its dedicate webpage.
Wave-flow flume
With dimensions of 12 (L) x 0.5 (B) x 0.7 (H) m3, it has glass walls and a bottom that can be tilted up to a slope of 10%. It can be used for:
studies of free surface currents through a laboratory recirculation system, with flow rates up to 100 l/s;
maritime studies, equipped with 1 wavemaker (similar to the basin's ones), which generates unidirectional regular or irregular waves, with significant height and typical wave period in the range of 0.10-0.15 m and 0.8-1.5 s, respectively.
Sediment channel
With dimensions of 17 (L) x 0.7 (B) x 1.0 (H) m3, with recirculation of sediments with a flow rate of 100 l / s, the channel is used for the study of bottom solid transport and to test innovative instruments and techniques.
Pumping system and recirculation plant
LIDR is equipped with a water recirculation system, through 6 pumps and two tanks, one of which is raised to stabilize the hydraulic load and is equipped with calibrated weirs. The total water capacity of the tanks is up to 100 m3.
Tanks for calibration
LIDR is equipped with:
15 m3 tank with pneumatically operated diverter (a few tenths of a second). It is used for the calibration of electromagnetic, acoustic flowmeters, turbines and weirs.
5 m3 tank with recirculating sediment flow up to 10 l/s and 1 kW propeller pump for high concentration mixing of clay, silt and fine sands. It is often used for testing on ADCPs and other acoustic devices for suspended sediment measurement applications.
Available instrumentation
LIDR is equipped with a large variety of classical and modern instruments (list).
Teaching and training activities
LIDR welcomes students attending the three-year and master's degree courses for institutional teaching activities, giving the opportunity to follow live experiments and routine tests, in addition to join research studies. Some courses of the degrees in Civil, Environmental and Building-Architecture Engineering include classroom lessons followed by practical activities in the laboratory of hydraulic engineering. There is also the possibility for students to carry out a 150-hour curricular internship at the laboratory, the development of degree theses and research activities during the doctorate and post-doctorate. Two teaching benches and two channels are used for educational purposes for the demonstration of basic principles of hydraulics, such as the Reynolds experience, the estimation of the force of jets and pressure drops in pressurized pipelines and sizing of thresholds and weirs.
LIDR is equipped with a computer room with 15 workstations, to support three-year and master's course exercises in the field of hydraulics and hydraulic constructions.
In 2019, LIDR hosted W.A.T.E.R., International Summer School on Hydraulics Measurement Techniques.
Services and consultancy
LIDR provides consultancy services for hydraulic engineering companies, for managers of water networks and canals and for hydroelectric power generation plants. River flow and current measurements are carried out through the use of ADCP ultrasound instruments. Since 2011, the LIDR has been carrying out activities for the industrial needs of innovation, in collaboration with the Fluid Dynamics Unit of CIRI Building and Construction.